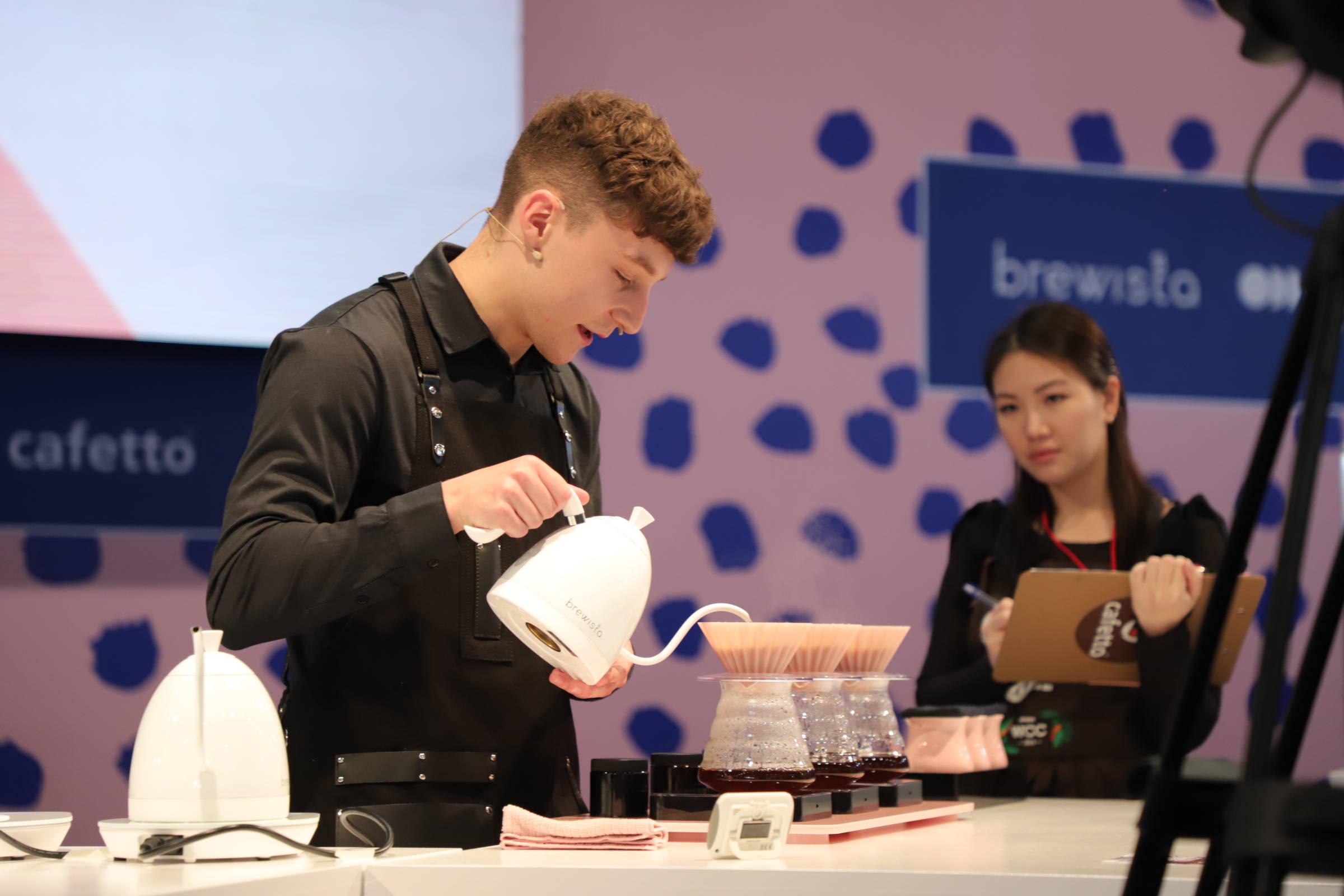 Everyone is a winner. We are on the same journey.
World Brewers Cup 2023 4th place Luca Croce
World Brewers Cup 2023 4th place Luca Croce
"Everyone is a winner in their own right. We are on the same journey."
Luca Crose says so with a wonderful smile.
In June 2023, Luca represented the United Kingdom at the World Brewers Cup 2023 in Athens, where she was awarded 4th place.
We asked Luca to share his passion for the Brewers Cup, his background, and his attitude toward the coffee scene.
――Could you tell us about the recipe you used for WBrC2023 this time?
Yes, of course.
I used a recipe with a water, coffee 15 to 1 ratio.
240 milliliters of water for 16 grams of coffee, a medium to coarse grind, and poured the water in four stages.
The recipe used water at a high temperature to bring out much of the sweetness of the coffee beans I chose, and the coarseness of the grind was quite coarse.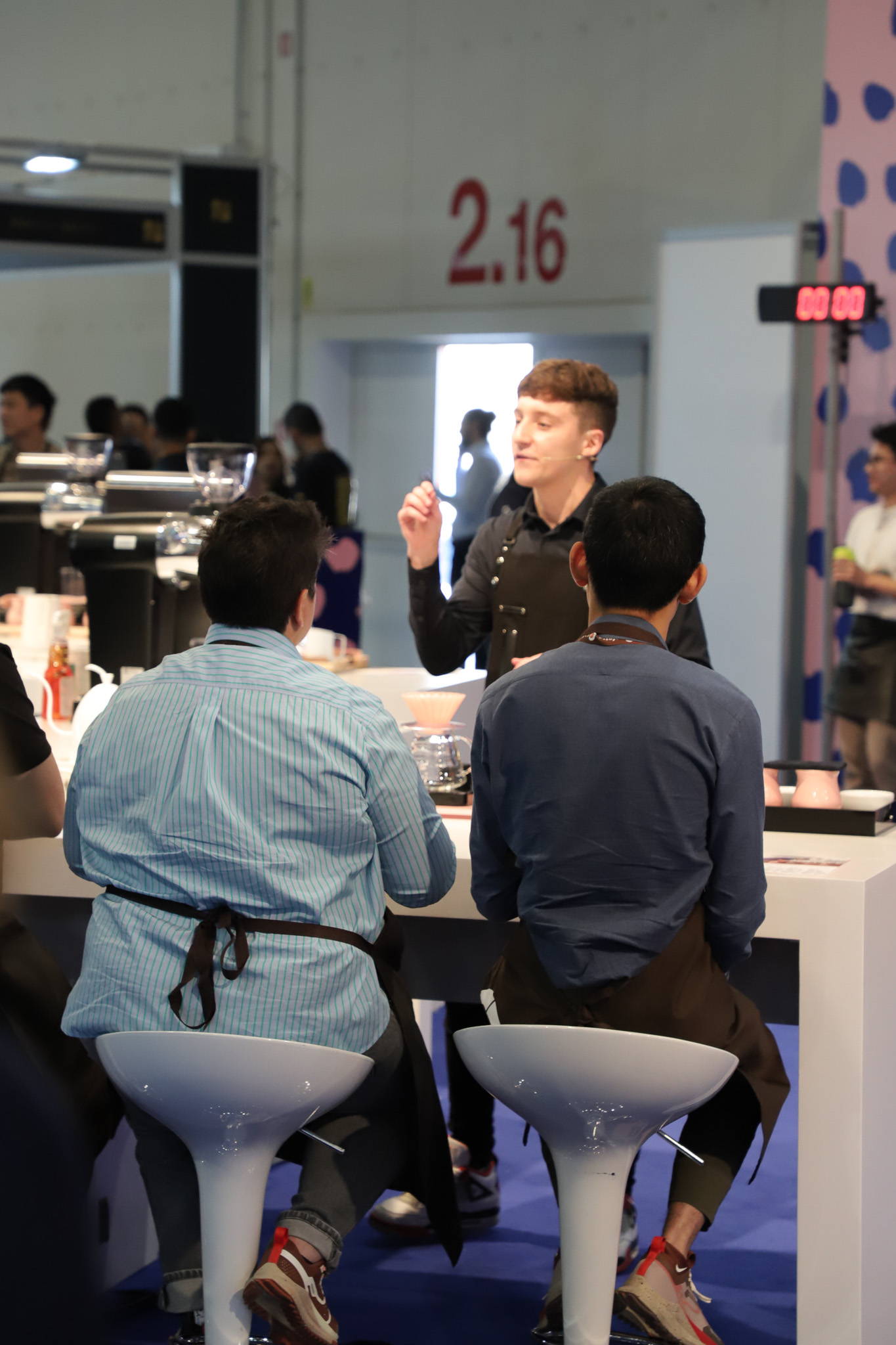 ――Please tell us why you chose to use ORIGAMI Sensory Flavor Cups this time.
I used the Sensory Flavor cup this time because it brings out the flavor and aroma of coffee at the same time.
Personally, I think this is a cup that can be enjoyed in any situation, including coffee for competitions as well as coffee that is enjoyed at home.
I also like the design and the cup's wide inner diameter encourages the stirring of the coffee.
For example, I really like the full-bodied part of coffee, which is called the body of the coffee, and when I try washed beans in the Sensory Flavor Cup, the body of the coffee really stands out well. That is what I like about it and the reason why I used it this time.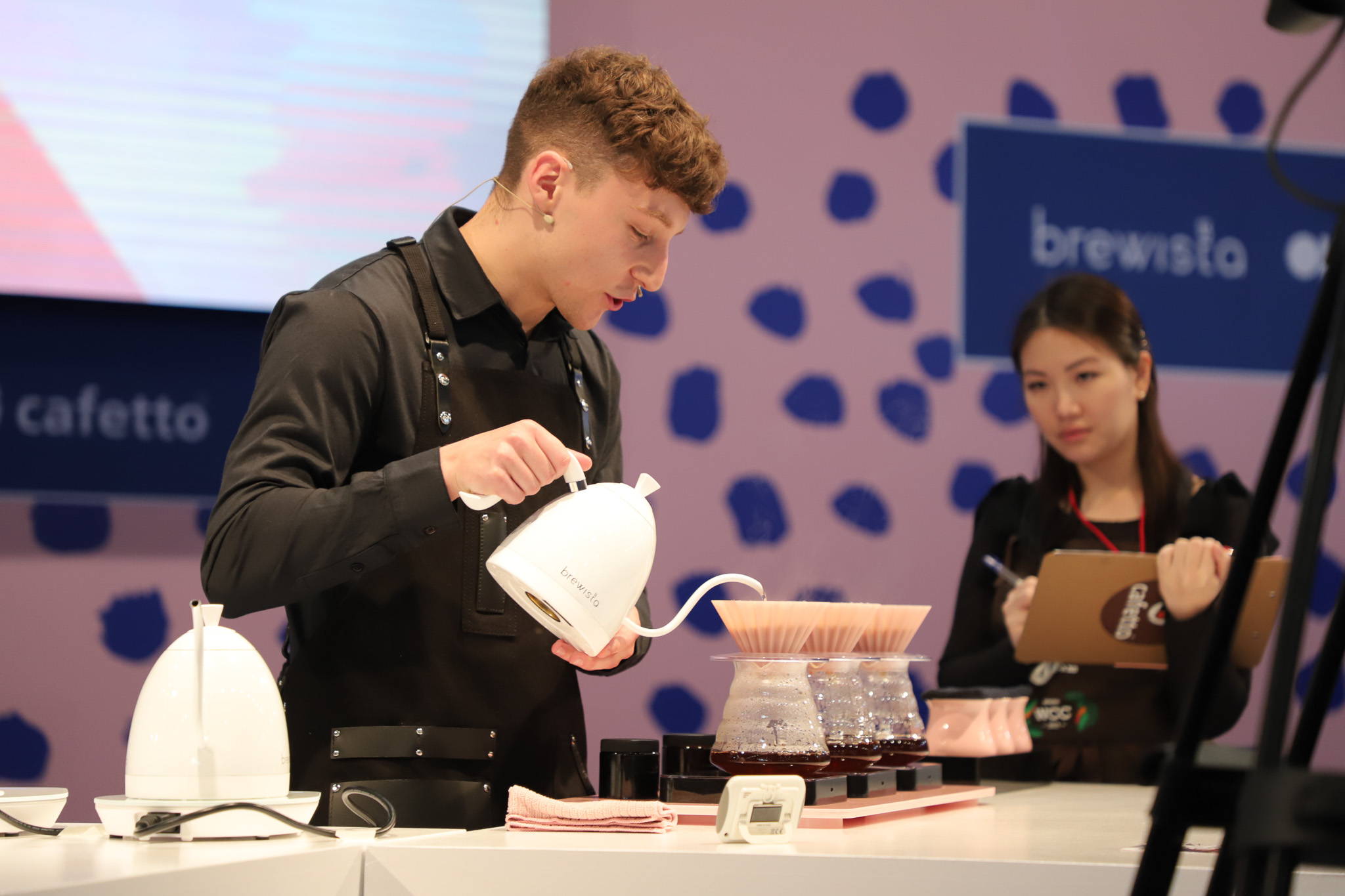 ――How does the color of the cup affect the taste of the coffee?
The ORIGAMI Sensory Flavor Cup Pink used this time was effective in bringing out the aroma of the coffee.
One of the flavor notes of the beans used in the competition was jasmine, so the floral pink color and coffee taste went very well with the aromatic jasmine flavor.
Also, pink is actually my favorite color. When I see pink, I feel happy.
When I saw the pink cups on stage, it naturally made me feel happy.
Coffee treated with the anaerobic process (anaerobic fermentation, funky aroma), for example, can express a more novel fruitiness. The Sensory Flavor Cup is really perfect for highlighting such characteristics.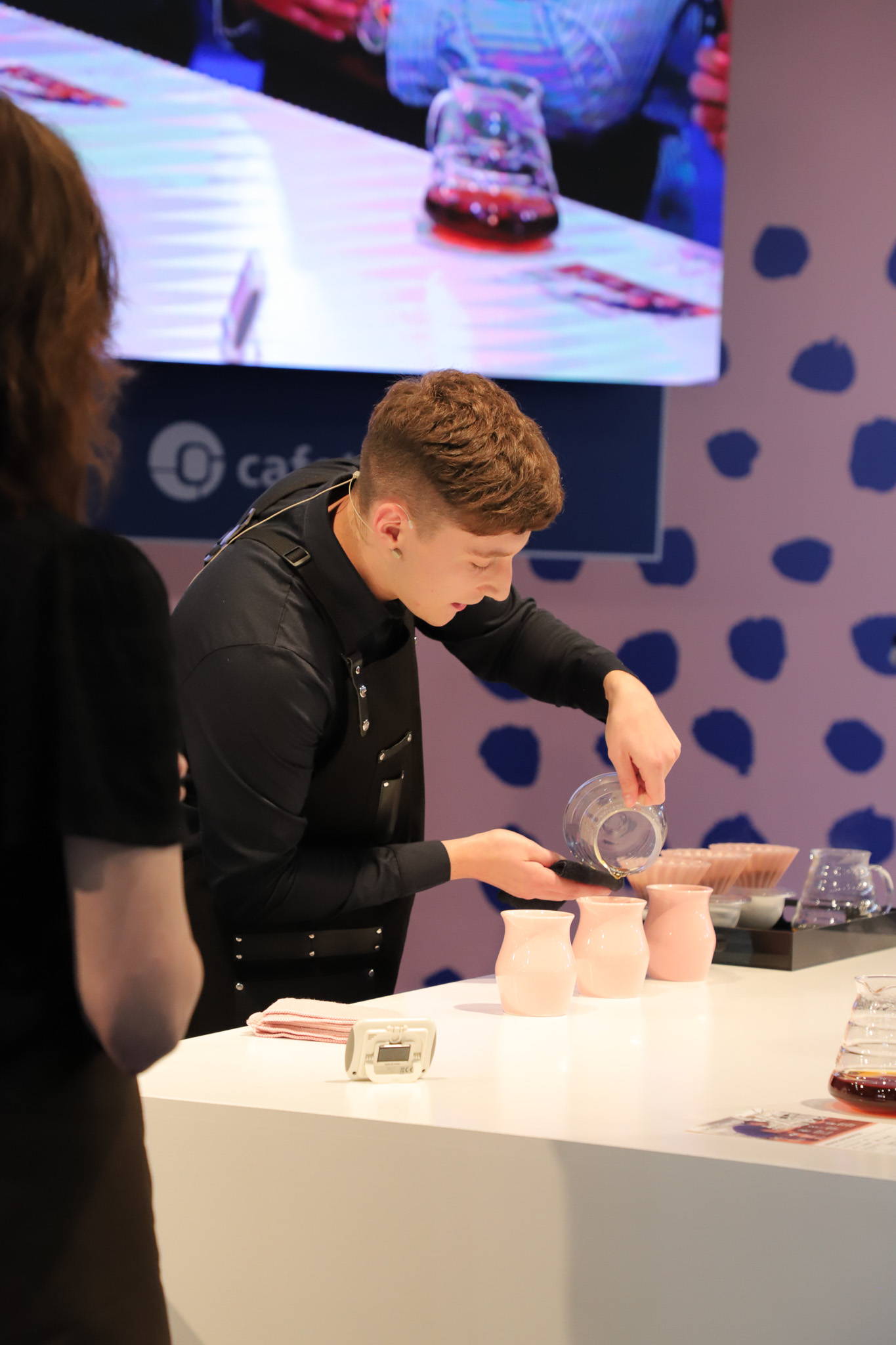 ――You have placed 4th in the world this time, could you tell us about your roots that led you to compete in the world of coffee?
Yes, my parents had a roasting place in my hometown, Newcastle.
I used to help my father on the weekends. After school, I would make coffee while my father was roasting. I enjoyed spending time with my father and had the opportunity to enjoy coffee with him.
I was immersed in coffee from an early age, but it wasn't until later in life that I actually started working in coffee. I wanted to try something new. I tried different jobs, but in the end, like everyone else, I fell in love with coffee.
I accomplished more in this competition than I ever dreamed of and it was truly a great learning experience. I gained a lot of confidence from participating in the competition.
I have so much to look forward to in the future.
――We felt very confident and powerful on stage during the presentation.
How did you prepare for the competition?
To be honest, I was a little nervous at first. I wasn't sure if I would be able to speak in front of a crowd for the first time, and I personally had never had that kind of experience before.
My mother brought a friend of hers with her and we started building my confidence through training to speak in front of new people.
So when I was actually on the world stage, giving a presentation, I was full of excitement because I could not imagine myself how my body would react.
I want to bring more of the British coffee scene to the world.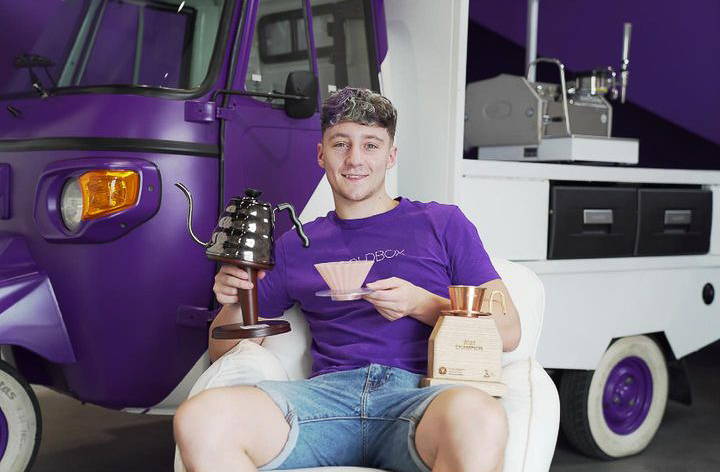 ――Thank you very much. Do you plan to continue to participate in competitions?
Yes, I intend to compete again. I have really learned a lot.
I am looking forward to meeting new people, making new friends, and many new experiences.
I really learn a lot from competing, including trying different coffees, recipes, equipment, and drippers. We hope to achieve greater heights over time.
As far as competitive competitions go, I would like to focus on the Brewers Cup.
The competition itself is fun, and I want to enjoy it while focusing my efforts on the competition.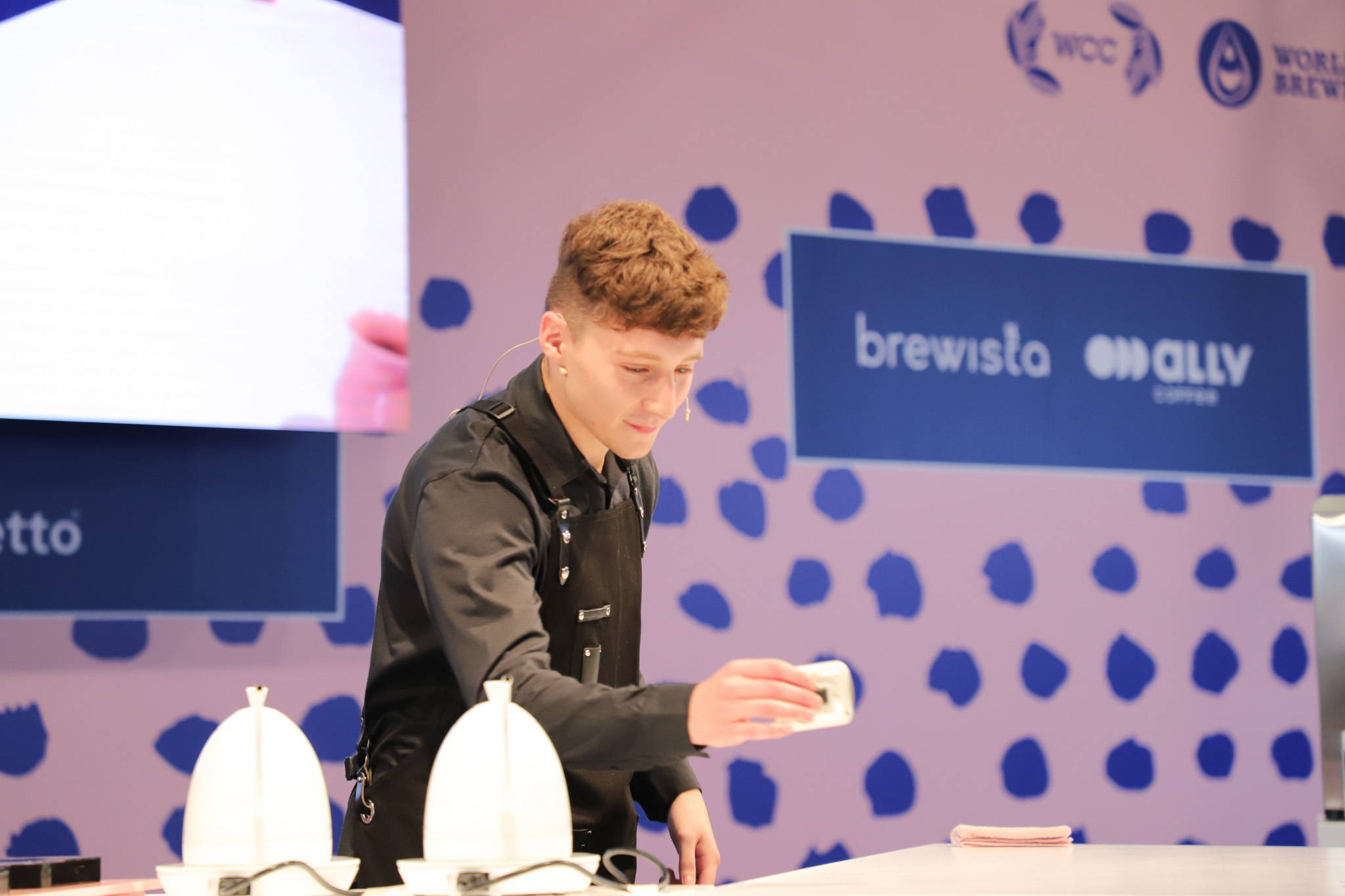 ―― Having fun is a fundamental part of what is needed. Do you have any goals for future competitions?
For me, the real goal is not to become a world champion. My goal is to build more community in the UK. I want to make the UK more reachable to the world scene. I do not want to achieve this by my own efforts alone, but with the help of more people. I feel really lucky to have had the help of my mother and hope to support others in the same way in the future.
Many people struggle with time and money to prepare for competitive events. I hope in the future I can help them realize their dreams. For me it is really about building community.
I believe that if you work with more people you get more ideas than if you do it alone.
Everyone is a winner. We are on the same journey.
I am planning to take a different approach and practice on my own at the next competition. I have continued to practice this time and I believe I have developed quite a few skills, so I am going to try and believe in myself and see the results to boost my confidence.
To be honest, in future competitions I don't really care if I lose. I feel like everyone is a winner and we are all on the same journey together. I think it is important to have friendly competition.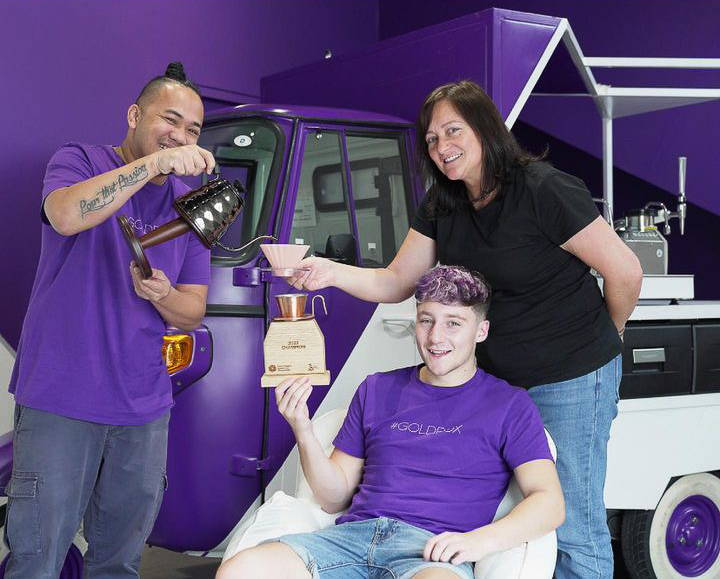 World Brewers cup 2023 4th place
The best view in the world, which he got after overcoming the previous competition.
The best view in the world, which he got after overcoming the previous competition.